---
New coffee and grain moisture tester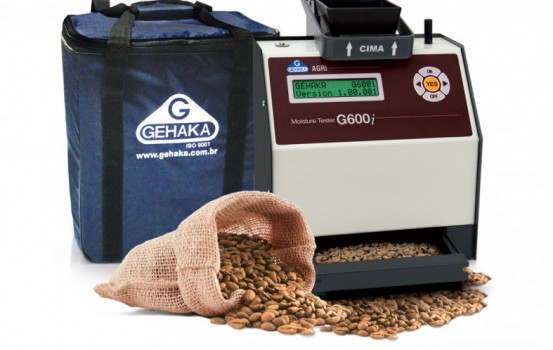 Gehaka just launched the next generation of its portable moisture tester for green and parchment coffees and other grains. The new equipment model is called G600i and will replace the model G600; a traditional and well-known tester used by many customers across the world for more than 14 years.
Accuracy, robustness, convenience, versatility, and durability are some key features that guaranteed the success of the G600.
The G600i keeps those essential characteristics and, in addition, has some new innovative features resulting in better performance. These new features are:
- Surface-mount with top technology in electronics. Extremely reliable.
- Auto calibration system after each measuring process. Guaranteed higher accuracy in each procedure.
- Illuminated display, which allows a better visualization of the results in any environment.
- Battery control system with a charge level indicator.
- Dual temperature sensor system, which measures both the sample and the instrument temperature simultaneously. The comparison of these measurements makes the process less susceptible to abrupt temperature variations between the grain sample and the equipment, which could interfere with the accuracy of the final measurement.
- Test Average Function, which gives the ability to perform multiple measurements with the same sample and calculates the average result. This function offers more reliability in the results, especially in measurements with moisture contents above 22%.
- Serial RS-232C or USB (optional) interfaces, which allow the transfer of information collected to a printing system (optional) or a computer.
- Calibration curves for more than 50 grain types. In addition to the green coffee and parchment coffee calibrations, the G600i has scales for most commercial grains.
- Online update system. Now, the
G600i
users can download new calibration curves (when available) from
www.moisturetester.com.br
. This new feature reduces the need to send the moisture tester to an authorized service center for updates.
May, 2014.